The lofty yen, the best-performing G10 currency in 2016, threatens to serve as an arrow to the heart of Japan's Abenomics, crimping exports and dampening inflation at a time when the country is trying to boost both.
During an interview on Bloomberg TV, however, UBS AG Investment Bank Global Economist Paul Donovan explained how the appreciation of the yen could actually prove a boon for the island nation.
The gains the yen has made will benefit a large and growing portion of Japan's population: the elderly.
This group spends an outsize portion of their budgets on energy, food, and pharmaceuticals—items that are often imported and therefore made less expensive by the yen's rally.
"So the elderly actually get a better standard of living from this, they maybe spend a bit more money," he said. "You can construct a more positive economic argument as the yen strengthens."
The rise in the yen will probably hurt profit margins more than market share for Japanese exporters, he added, but these companies have been choosing to invest in foreign operations anyhow.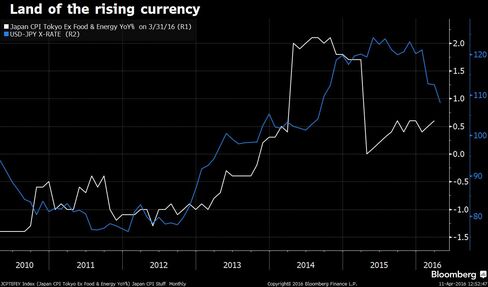 Although recent history suggests Corporate Japan has been unwilling to deploy those earnings domestically, a decline in profitability is not conducive to pay hikes or investment to boost flagging productivity.
Whether the boost to purchasing power—especially in the older cohort—proves to outweigh any adverse effects on exporters, capital spending and take-home pay will likely remain an open question for some time.
But it's still interesting to note the potential silver lining of a stronger Japanese currency.
Article by Luke Kawa via Bloomberg
Source: Bloomberg
Please Like and Follow Me!