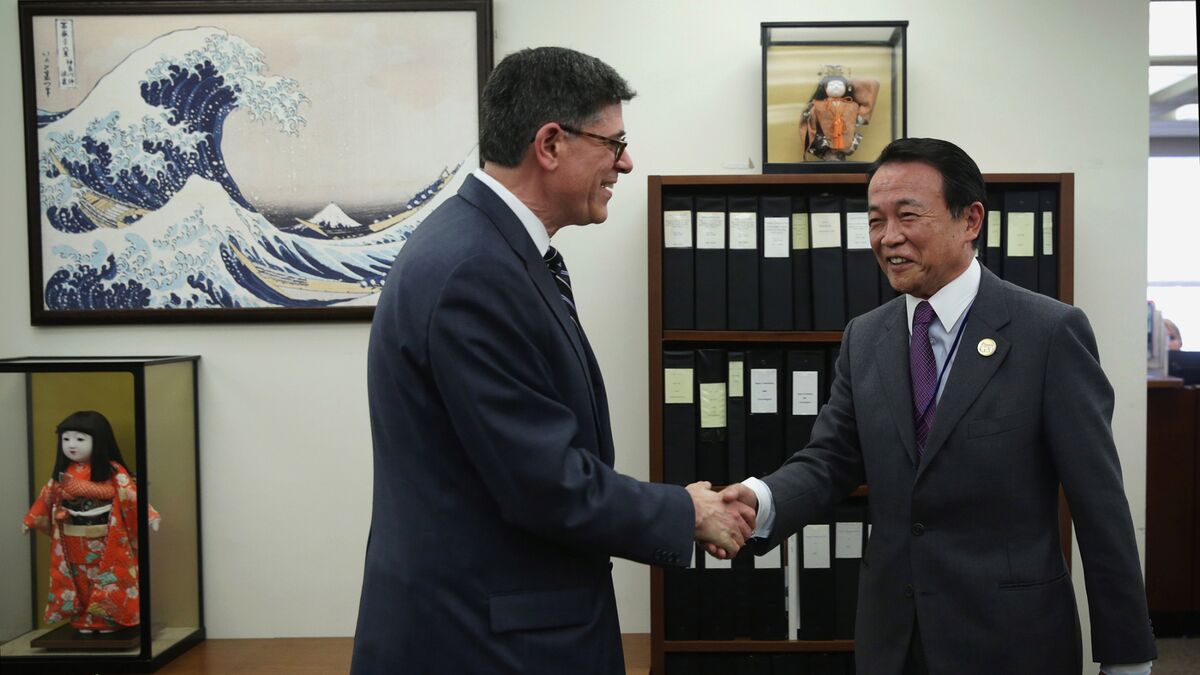 Japan has won little sympathy from its Group of 20 counterparts for the pain being caused by a stronger yen, signaling opposition to shielding the country's fragile economy via intervention to curb the currency's strength.
During a G-20 meeting in Washington on Thursday and Friday, Japanese Finance Minister Taro Aso said he re-confirmed with his counterparts, including U.S. Treasury Secretary Jack Lew, that disorderly currency movements aren't desirable. But within 24 hours, Lew had bluntly said that Japan needs to focus on domestic demand and called foreign-exchange market moves "orderly" — a clear warning that the U.S. doesn't view yen intervention as warranted.
"There's a broad consensus that we should avert as a global financial system any kind of competitive devaluation cycle," said Mexican Finance Minister Luis Videgaray. "So I don't think that it is likely that would be a possibility in Japan or any other place," he told Bloomberg in Washington.
G-20 finance chiefs on Friday reiterated a pledge to refrain from weakening their currencies to gain a trade edge over rivals, while stating that "disorderly movements" in exchange rates can be harmful. The yen has risen about 11 percent this year against the dollar.
"No one suffers from an appreciation of the yen except Japan," said Hiromichi Shirakawa, chief Japan economist at Credit Suisse Group AG in Tokyo. "Almost all nations are struggling with a weak growth and they have little tolerance with Japan after allowing the yen to weaken in the past three years."
Tepid Growth
The International Monetary Fund has cut its global growth forecast to 3.2 percent this year from 3.4 percent, highlighting the lack of momentum in the world economy and why there is such little scope for any nation to poach demand from abroad by cheapening the value of its currency. The IMF has halved its forecast for Japanese growth this year to 0.5 percent and forecast the economy would shrink 0.1 percent in 2017.
IMF Managing Director Christine Lagarde on Thursday said that currency intervention was only appropriate to avoid "very disruptive volatility."
The Japanese currency has advanced despite a surprise Jan. 29 introduction of negative interest rates by the Bank of Japan, which other G-20 nations initially viewed as a potential source of yen weakness.
"Developments in foreign-exchange markets have impacts on a economy and prices so we will closely monitor them," BOJ Governor Haruhiko Kuroda told reporters in Washington Friday. "We won't hesitate to consider additional action if judged necessary for our price target."
Sayuri Shirai, a former BOJ board member who stepped down last month, said it would be an error to rely on weakening the yen to spur growth and end 15 years of deflation. "It's vital for Japan to boost domestic demand," she said.
Article by Toru Fujioka via Bloomberg
Source: Bloomberg
Please Like and Follow Me!