European stocks rose with U.S. equity-index futures, buoyed by an increase in oil prices on production disruptions and a softer forecast for surplus supplies from the International Energy Agency. Norway's krone jumped and Brazilian assets advanced.
The Stoxx Europe 600 Index reversed a drop of as much as 1 percent, overcoming a drag from companies including LafargeHolcim Ltd. that posted lower earnings. Crude gained for a third straight day as the IEA said robust demand in India and other emerging nations would support demand for oil, while supply reductions around the world, from the U.S. and Canada to Nigeria, helped whittle away the global surplus. Norway's krone appreciated versus all its 16 major counterparts after the central bankrefrained from cutting interest rates and as commodity prices climbed. U.K. government bonds halted their longest winning streak on record.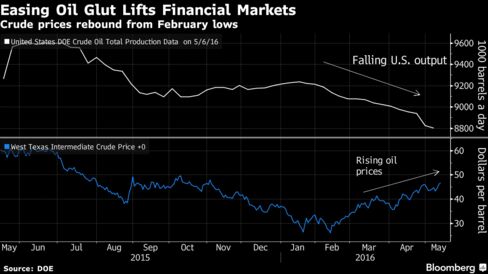 "The global supply surplus of oil will shrink dramatically later this year," the Paris-based IEA, which advises 29 of the most industrialized nations on energy policy, said in a report. "Changes to the data in this month's report confirm the direction of travel of the oil markets towards balance."
After dropping to as low as $26.05 a barrel in February, oil futures have rallied to close at a six-month high above $46 a barrel in New York on Wednesday, after supplies were tightened by declining U.S. drilling, wildfires in Canada and disruptions in Nigeria. That's helping to stabilize global equities, which were roiled by losses in commodities in the first six weeks of the year and more recently by disappointing company earnings.
The Stoxx Europe 600 Index added 0.7 percent as of 7:33 a.m. New York time and S&P 500 futures gained 0.6 percent. Crude rose 1.1 percent to $46.72 a barrel in New York. The krone strengthened 1 percent to 9.2376 per euro. An exchange-traded fund tracking Brazilian shares extended this month's high after Brazil's Senate voted to suspend President Dilma Rousseff from office to face an impeachment trial, ushering in a new government to take command of Latin America's largest economy.
Stocks
Energy companies posted the biggest gains in European equities, with Total SA and Royal Dutch Shell Plc gaining more than 1 percent. Zurich Insurance Group AG added 7 percent after Switzerland's biggest insurer posted a first-quarter profit that beat analysts expectations. RWE AG jumped 8.8 percent after the German power producer said that first-quarter profit was little changed as "unusually high earnings" from trading countered slumping power prices.
LafargeHolcim fell 0.7 percent after reporting first-quarter earnings that missed estimates. Credit Agricole SA was among the biggest losers, slipping 4.1 percent afterposting a 71 percent drop in first-quarter profit.
Futures indicate U.S. equities will rebound after falling for the first time in four days on Wednesday. Retail and apparel companies were the hardest hit, posting their worst declines since the depths of the correction earlier this year as disappointing results from Macy's Inc. to Walt Disney Co. heightened concern that American consumers remain reluctant to boost spending. Ralph Lauren Corp. is among companies reporting earnings Thursday.
The MSCI Asia Pacific Index fell 0.3 percent, after earlier sliding as much as 0.6 percent. Benchmarks in Hong Kong and Shanghai declined to two-month lows. CK Hutchison Holdings Ltd. dropped to its lowest since February in Hong Kong after European Union regulators vetoed the company's plan to buy U.K. carrier O2 for as much as 10.25 billion pounds ($15 billion).
The MSCI Emerging Markets Index was little changed, after climbing 0.9 percent in the past two days, the most since April 14. Energy shares led gains. The Bloomberg GCC 200 Index of Gulf stocks rose for the first time in three days, advancing 0.5 percent.
A Paris-based exchange-traded fund that tracks Brazil's stock market rose 0.8 percent, its third straight day of gains, as Vice President Michel Temer prepared to name his cabinet that would be in place during Rousseff's suspension.
Commodities
U.S. oil output declined to 8.8 million barrels a day last week, the lowest level since September 2014, while stockpiles fell 3.41 million barrels, a report showed Wednesday. Analysts surveyed by Bloomberg had projected a 750,000-barrel increase in supplies.
Copper for three-month delivery on the London Metal Exchange gained 0.3 percent. Codelco, the world's biggest producer, sees prices rising toward the end of next year as investment cuts hasten a re-balancing of global supply and demand. The LMEX Metals Index, which tracks the six main metals traded on the LME, gained 0.9 percent on Wednesday, rebounding from a one-month low.
Gold fell 0.7 percent, reflecting gains in the dollar. It has surged almost 20 percent this year as the Federal Reserve refrained from raising interest rates and the European Central Bank and Japan stepped up monetary stimulus. A World Gold Council report showed Thursday that global demand in the first quarter was the second-highest on record.
Bonds
U.K. 10-year government bonds fell after a 10-day run of gains that was their longest winning streak since at least 1989. U.K. securities have returned 5.6 percent in 2016, almost twice as much as their euro-area peers, according to Bloomberg World Bond Indexes.
Italian bonds also declined as the market absorbed 7.5 billion euros ($8.6 billion) of securities the government sold via auction on Thursday. The 10-year yield climbed three basis points to 1.5 percent.
The U.S. plans to sell 30-year debt on Thursday, after the notes handed investors areturn of more than 10 percent this year. The long bonds yield 2.6 percent — more than any other benchmark maturity in the U.S., the U.K., Germany or Japan — and the securities are rallying as traders push back bets for when the Fed will raise interest rates.
Institutional investors that bid through primary dealers, known as indirect bidders, bought 73.5 percent of the 10-year notes the Treasury sold Wednesday, the most in data that go back to 2003. Japanese money managers boosted their holdings of U.S. sovereign debt by a record 4.95 trillion yen in March, based on Ministry of Finance data published Thursday.
The cost of insuring corporate debt against default was little changed, with the Markit iTraxx Europe Index of credit-default swaps on investment-grade companies at 77 basis points.
Currencies
The krone led currency-market gains after Norway's central bank left its benchmark rate at a record low as the government spends more of its vast oil wealth to keep the economy from slipping into a recession. The main rate was held at 0.5 percent, as forecast by 17 of the 18 analysts surveyed by the Bloomberg. The decision follows a quarter-point cut in March.
The pound advanced against the euro as Bank of England policy makers led by Governor Mark Carney voted unanimously to leave interest rates unchanged. Bank of America Merrill Lynch had said one or two of the nine-member panel could vote for a cut.
The yen lost ground against most of its major counterparts, falling for the third time in four days versus the dollar. Bank of Japan Governor Haruhiko Kuroda said policy can be loosened further if needed. Reuters reported that Takatoshi Ito, a professor at Columbia University, said the BOJ could ease in June or July if inflation indicators weaken and stock prices drop.
The yen was also undermined by oil's gains, which boosted currencies of commodity-exporters such as the South African rand and Mexican peso.
Australia's currency slumped as much as 0.8 percent as traders speculated on another interest-rate cut in the next six months after the Reserve Bank of Australia's unexpected move on May 3. The Aussie's losses will be limited by investor appetite for higher-yielding AAA rated assets, keeping the exchange rate in a range, said Takuya Kanda, a senior researcher at Gaitame.com Research Institute Ltd.
The yuan weakened 0.3 percent in Shanghai, narrowing its premium to the offshore exchange rate after the spread widened on Wednesday to 0.6 percent, the most since February. The divergence prompted speculation this week that the People's Bank of China would intervene.
Traders raised bets on a devaluation of Nigeria's naira by the most on record after the vice president of Africa's biggest economy said it was carrying out a "substantial review" of its foreign-exchange policy.
Naira three-month non-deliverable forwards weakened 8.7 percent to 234.5 against the dollar, the biggest move since the contracts started trading in March 2011.
Article by Kelly Gilblom via Bloomberg
Please Like and Follow Me!