Gold extended the biggest surge in seven years as the fallout from the U.K.'s decision to leave the European Union boosted haven demand.
Bullion rose for a second day as the pound extended a record selloff and European equities fell to the lowest since February. Gold jumped 4.7 percent on Friday as the referendum result caused turmoil across global markets, spurring a $4.3 billion surge in holdings in bullion-backed funds, the most in four years.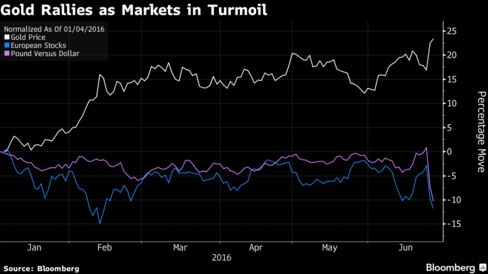 Gold has rallied 25 percent this year as investors sought a protection of wealth and the Federal Reserve indicated it would keep interest rates low. Prices may reach $1,424 an ounce, 7.4 percent higher than now, by year-end, according a Bloomberg survey of analysts and traders from New York to London conducted Friday. Goldman Sachs Group Inc. raised its outlook for gold over the next year by $100 an ounce.
There's an "extremely high level of interest" in buying physical gold, said Ross Norman, chief executive officer of bullion dealer Sharps Pixley Ltd. in London, adding that the firm has been forced to use emergency supplies from Germany and Switzerland to meet demand. "It's not just a British story. My colleagues in Europe are also experiencing very strong buying."
Bullion for immediate delivery rose 0.8 percent to $1,325.79 an ounce by 11:15 a.m. in London, according to Bloomberg generic pricing. Prices surged as much as 8.1 percent on Friday to the highest in two years.
Investor Concerns
Investors are concerned even after Chancellor of the Exchequer George Osborne sought to calm markets. Prime Minister David Cameron announced his resignation on Friday, the opposition Labour Party has been thrown into chaos and Scotland is agitating for independence.
The "growing instability" will push gold higher, Mikhail Stiskin, chief financial officer at Polyus PJSC, Russia's largest gold miner, said in an interview. The uncertainty and flight-to-safety sentiment are likely to be more persistent than the initial reaction to the referendum, Goldman Sachs said. It raised its three-month price target to $1,300 from $1,200 and sees prices at $1,250 in a year, up from $1,150.
Holdings in exchange-traded funds backed by gold rose 17.5 metric tons to 1,922.1 tons as of Friday, the highest since October 2013, data compiled by Bloomberg show. The $4.3 billion surge in assets was the most in a single day since 2012.
Gold miners Fresnillo Plc and Randgold Resources Plc were the best performers in the U.K.'s FTSE 100 Index on Monday, rising 8 percent and 7.6 percent, respectively.
In other precious metals news:
Gold futures trading volume on the the Comex in New York was 61 percent above the 100-day average for the time of day.
Silver prices were little changed while platinum added 0.3 percent and palladium rose 0.4 percent.
Article by Ranjeetha Pakiam and Yuliya Fedorinova via Bloomberg
Source: Bloomberg
Please Like and Follow Me!