Over-optimistic earnings expectations, lofty multiples, and enthusiasm in the markets are the three signs that global equities will be forced out of their "sweet spot," according to HSBC Holdings PLC.
"We are cautious about a continuation of this cyclical 'Goldilocks' rebound, and believe it is threatened by [these] 'three bears,'" writes a team led by Global Equity Strategist Ben Laidler. "We think we are in fundamentally range-bound markets, with low growth and low bond yields, but have overshot the top of this range."
Laidler thinks global equities will end the year 8 percent lower based on a lack of earnings momentum and a contraction in valuations.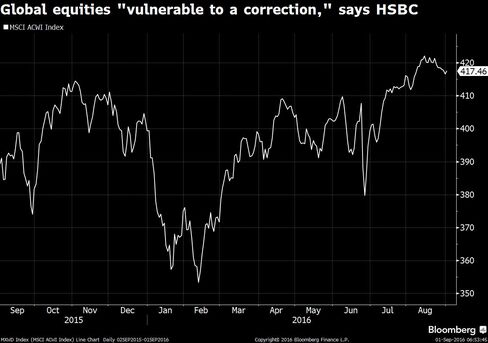 To be sure, this isn't Laidler's first bout of bearishness recently.
During a BloombergTV interview on May 16, the strategist indicated that he was "struggling to see a lot of upside in aggregate" and that there were "better opportunities in some other asset classes."
Over-optimistic earnings expectations
Without global GDP growth of at least 3 percent in 2017 — which is materially ahead of HSBC's forecast — history suggests the double-digit earnings growth strategists are calling for won't be in the cards.
It's especially hard to bet on the priced-in earnings growth materializing given elevated economic policy uncertainty in major economies, especially the U.K.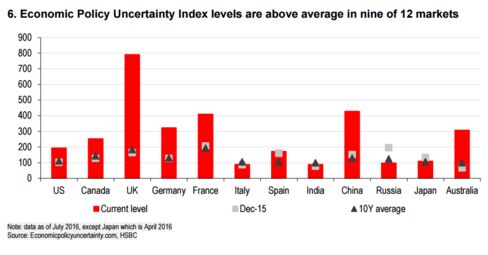 Lofty multiples
"The majority of the return from global equities this year has continued to come from multiple expansion, increasing the valuation premium to history to 20 percent," writes the strategist.
As such, the price to earnings multiple for the MSCI All Country World Index has risen to about its 10-year high, per HSBC.
It's the combination of high expectations for earnings and relatively expensive stocks that makes a contraction in the latter all the more concerning if the prophesied bottom-line growth proves too ambitious a forecast.
"You have to be relatively optimistic on the outlook for earnings to argue equities are cheap compared to history," argues Laidler.
Investor enthusiasm
The strategist joins Citigroup Inc.'s Tobias Levkovich and Bank of America Merrill Lynch's Savita Subramanian in opining that sentiment has improved, and as such is unlikely to offer a further boost to stocks going forward.
Laidler suggests the low levels of the CBOE Volatility Index, commonly known as the VIX, bullishness among hedge funds, and the rebound in HSBC's proprietary sentiment index are not the "ingredients for continued rises" in global stocks.
"Comparing current conditions with those before the eight 'corrections' seen in this bull market, we believe markets have rallied further, are more expensive, and have weaker earnings revisions and a lower leading economic indicator," concludes the strategist.
However, HSBC remains overweight emerging market equities, and also become more optimistic on Canadian plays, upgrading it to neutral. In addition, the "safer-haven" characteristics of the U.S. will also support equities in the world's largest economy, according to the strategist.
Article by Luke Kawa and William Canny via Bloomberg
Source: Bloomberg
Please Like and Follow Me!