Traders betting on further gains in the dollar aren't being dissuaded by Friday's slump in the U.S. currency after the February employment report showed robust jobs growth.
That's because they're counting on the Federal Open Market Committee's March 15 meeting to reignite the sputtering rally in the greenback.
Dollar bulls will focus on the Fed's quarterly update to its "dot plot," its projections for rates in coming years. The market has yet to fully price in the three 2017 hikes that the Fed forecast in December, and Friday's labor report kept alive speculation officials may want to pick up that pace.
"I'm still bullish," Shaun Osborne, chief foreign-exchange strategist at Bank of Nova Scotia in Toronto, said after the jobs report. "Any tilt up in the dots or messaging along these lines next week will be dollar-supportive."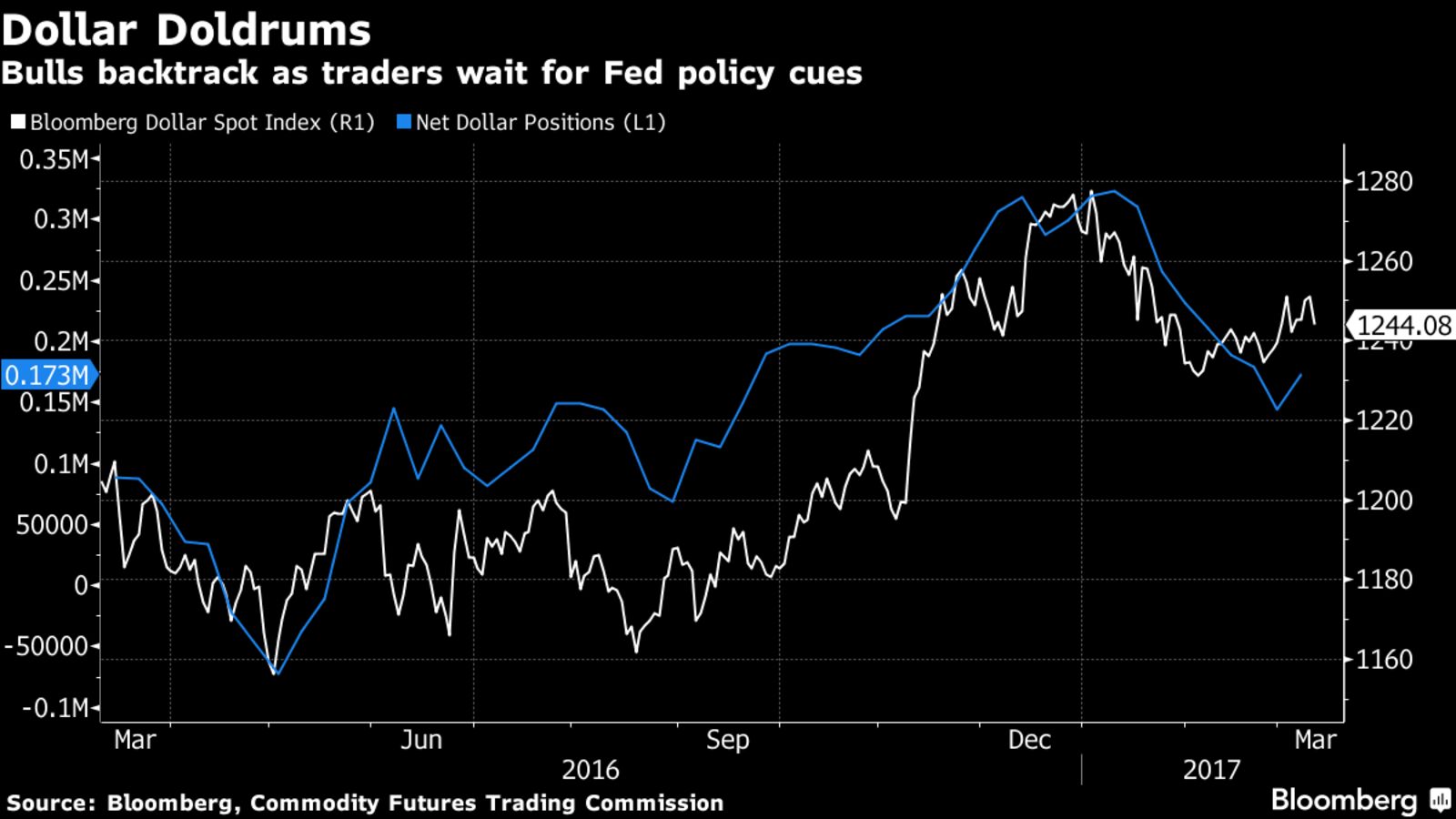 While finishing Friday on a down note, the greenback has actually been on the upswing. Comments two weeks ago by Fed officials that bolstered expectations the central bank will boost borrowing costs have provided underlying support even as the prospects for a quick implementation of the Trump administration's pro-growth agenda diminish.
In anther sign of optimism, hedge funds and other large speculators added to bullish bets on the dollar for the first time in eight weeks. Wagers on greenback gains outnumbered bearish positions by 172,639 as of March 7, Commodity Futures Trading Commission data showed.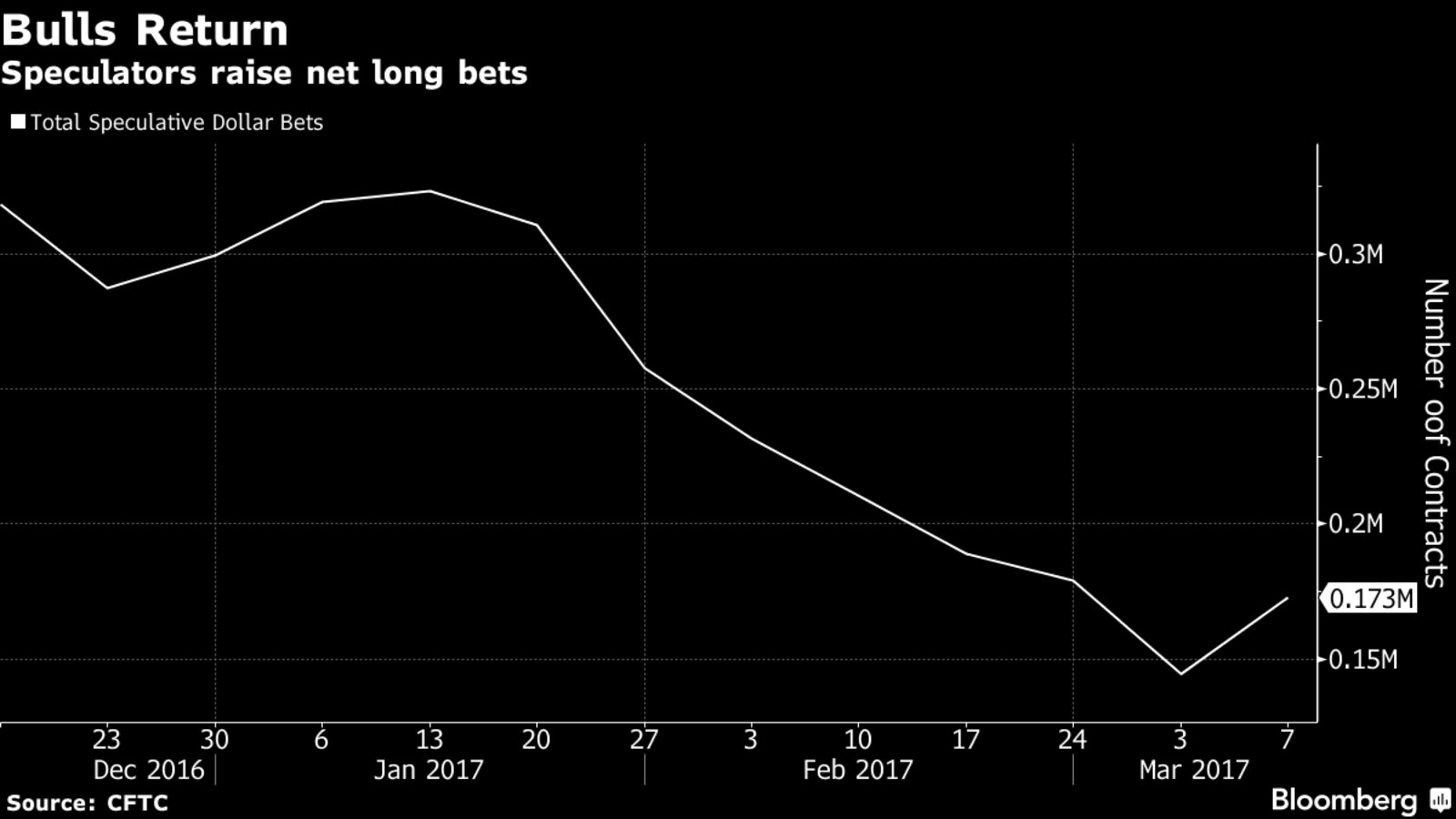 The currency is down almost 2 percent this year, in part because traders are assessing President Donald Trump's stance on the dollar. While fiscal-stimulus proposals would tend to spur inflation and lift the currency, administration officials have complained that the greenback is too strong.
U.S. Treasury Secretary Steven Mnuchin plans to use his debut at a Group of 20 meeting in Germany this week to drive home the message that the U.S. won't tolerate countries that engage in currency devaluation to gain an edge in trade, according to people familiar with the matter.
Even stronger employment data couldn't stop the dollar from falling Friday. U.S. employers added 235,000 jobs in February, beating the median analyst forecast of 200,000 — but that was still shy of some expectations for a blowout number, strategists said.
"There are a lot of hurdles the dollar rally has to jump through, but I'm not convinced there's any evidence of a meaningful pullback," said Jeremy Cook, chief economist at London-based World First U.K. Ltd. U.S. growth, rising interest rates and potential changes to economic policy will continue to boost the world's biggest economy relative to its global peers, while political risks elsewhere will bolster the appeal of U.S. assets, he said.
Strategists at Bank of America Merrill Lynch recommend short-term bullish bets on the greenback against the euro, yen and pound.
"The U.S. dollar rally is not over yet," Athanasios Vamvakidis, the bank's head of G-10 currency strategy, wrote in a note.
Article by Lananh Nguyen via Bloomberg
Source: Bloomberg
Please Like and Follow Me!